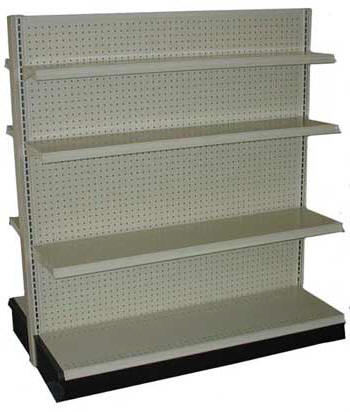 One of the most popular heights is a 60" High Gondola, available in either a 3' wide, a 4' wide, a 24" wide and a 30" wide configuration by special order.
The Gondola being available in these widths can be configured to meet the needs of most any length starting as a 24" long or a 2' long gondola on up to how ever long of a shelving run needed as the 54" High Gondola Sections can be connecting together to create a continues run for as long as the eye can see, if needed.
The 54" high Gondola is available with many different base shelf and upper shelving configurations. The base shelves are available from 12" deep to as high as 30" deep and the upper shelves are available form 8" deep to 30" deep in 2" increments.
Gondolas are available in what is known as a single sided typically used utilizing a wall and a double sided typically used to separate the floor section of the store.
---
The best way we can help you receive an accurate quote for Gondola Shelving is if you can provide us with the sizes needed for your store application. For more on the information needed to receive an accurate quote.
---
Also available in a 54" high configuration, the Lozier Gondola Shelving is a perfect choice for the aisles in a convenience store. You will see shorter gondolas in a Convenience Store as a store clerk will have the ability to see whom is inside the sore at any given time.