Depending on what your needs are, we have complete shelving units or sections available in a double-sided or single sided wall configuration, plus an end cap that can be placed at either end or both ends of an existing aisle of double-sided gondola shelving.
If you are ready for a quote for complete gondola aisles click this link to find the information we need to provide you an fast, easy, and accurate quote for your store gondola needs.
If you need parts for your existing shelving we suggest you scroll down this page, identify the parts you need, call us, and we will provide you with an accurate quote any time.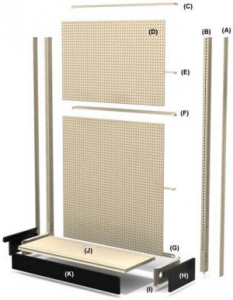 We have in stock every day, Uprights, Base Shoes, Base Brackets, End Trim, Base Shoe Covers, Front Kick Plates, Front Trim, Uprights, Upright Trim, Top Rails, Top Spanners, Center Rails, Center spanners, Perferated Backs, Solid Backs, Slatwall backs, Splicer Rails, Splicer Spanners, Lower Rails, lower spanners, Base shelves, Upper shelves, Wall Mount Brackets, Upright Extenders, Extension Uprights.
Gondola Shelving parts for Madix, Lozier and Streater Shelving